The N10-008 exam for CompTIA Network+ certification was released in September 2021. Currently, both N10-007 and N10-008 are available for CompTIA Network+ certification. Compared to the N10-007 exam, the N10-008 exam will validate the technical skills needed to securely establish, maintain and troubleshoot the essential networks that businesses rely on. Lead4Pass offers new N10-008 dumps questions that are real to ensure you can pass the CompTIA Network+ certification exam.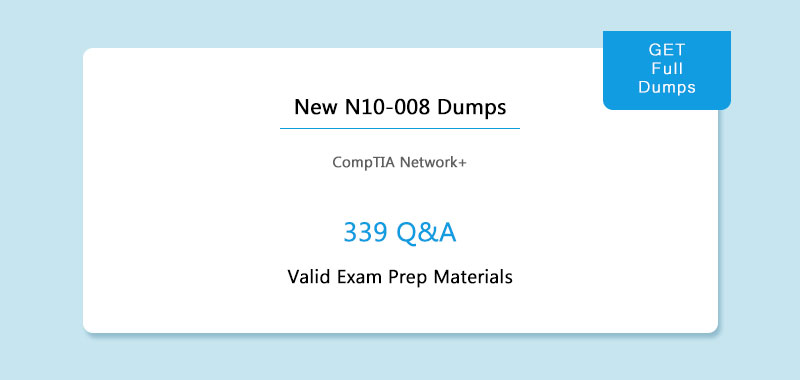 Check CompTIA N10-008 Free Dumps Before Getting New N10-008 Dumps Questions
1. A network administrator is reviewing interface errors on a switch. Which of the following indicates that a switchport is receiving packets in excess of the configured MTU?
A. CRC errors
B. Giants
C. Runts
D. Flooding
2. Which of the following WAN technologies swaps the header on a packet when internally switching from one provider router to another?
A. ATM
B. Frame relay
C. MPLS
D. PPP
3. A technician has completed configuration on a new satellite location. The location has a new firewall and a small internal network. The technician has been asked to perform basic vulnerability testing.
Which of the following tools would BEST assist the technician in verifying the security of the site?
A. Packet sniffer
B. Bandwidth tester
C. Port scanner
D. Protocol analyzer
4. Which of the following is true about an IP address if the first bit is a one and the second bit is a zero?
A. The address is a Class A address.
B. The address is a Class B address.
C. The address is a Class C address.
D. The address is a Class D address.
5. Kim, a network administrator, should consult which documentation sources FIRST to determine the cause of recent network issues?
A. Network map
B. Cable management
C. Change management
D. Asset management
6. Which of the following connector types would Sandy, a network technician, use to connect a serial cable?
A. RJ-11
B. BNC
C. LC
D. DB-9
7. A company requires a disaster recovery site to have equipment ready to go in the event of a disaster at its main datacenter. The company does not have the budget to mirror all the live data to the disaster recovery site.
Which of the following concepts should the company select?
A. Cold site
B. Hot site
C. Warm site
D. Cloud site
8. A technician is installing a cable modem in a SOHO. Which of the following cable types will the technician MOST likely use to connect a modem to the ISP?
A. Coaxial
B. Single-mode fiber
C. Cat 6e
D. Multimode fiber
9. A company is being acquired by a large corporation. As part of the acquisition process, the company\\'s address should now redirect clients to the corporate organization page.
Which of the following DNS records needs to be created?
A. SOA
B. NS
C. CNAME
D. TXT

Reference: https://www.namecheap.com/support/knowledgebase/article.aspx/9604/2237/types-of-domain-redirects-301-302-url-redirects-url-frame-and-cname/#:~:text=CNAME%20record%20is%20actually%20not,often%20mistakenly%20used%20as%20such.andtext=In%20other%20words%2C%20CNAME%20record,address%20of%20the%20destination%20hostname
10. A national cable company providing TV, telephone, and Internet service to home users over its IP network, has been tracking a large increase of network bandwidth due to P2P file sharing.
Which of the following should the company deploy to ensure excellent TV and telephone service?
A. QoS
B. Load balancing
C. High availability
D. Fiber optics
11. Which of the following is the physical topology for an Ethernet LAN?
A. Bus
B. Ring
C. Mesh
D. Star
12. Which of the following ports are associated with IMAP? (Choose two.)
A. 25
B. 110
C. 143
D. 587
E. 993
F. 995

Reference: https://billing.precedence.com.au/billing/knowledgebase/70/Mail-Ports-for-POP3-IMAP-and-SMTP.html
verify answer
| | | | | | | | | | | | |
| --- | --- | --- | --- | --- | --- | --- | --- | --- | --- | --- | --- |
| Q1 | Q2 | Q3 | Q4 | Q5 | Q6 | Q7 | Q8 | Q9 | Q10 | Q11 | Q12 |
| B | C | D | B | C | D | C | A | C | A | D | CE |
Provide more CompTIA N10-008 free dumps learning methods:
[Free Download] CompTIA N10-008 PDF: https://drive.google.com/file/d/1ZPfe3Kis6e7kxqwrxqEUS1lGrm4BvSfK/view?usp=sharing
[2022] New N10-008 Dumps: https://www.lead4pass.com/n10-008.html (Total Questions: 339 Q&A)
Both N10-007 and N10-008 are available for CompTIA Network+ certification. Use the new N10-008 CompTIA Network+ dumps to help you pass the exam with ease.